Welcome to The Barn at Springhouse! The Barn is the most iconic part of the Springhouse property. The barn can seat up to 80 people with tables and chairs for an event or reception and can hold up to 175 people for a seated wedding ceremony.
Quick facts about what is included in The Barn at no additional cost:
Vintage chair vignette

Four spectacular chandeliers

Paver floor (perfect for dancing in the barn)

Large chalkboard mounted on the walls

Stage

Vintage gold mirror wall

Tobacco cloth curtains

Bistro lighting throughout

Three large original buffet tables

Bar made from original barn wood

Loft area with a mantle, table & chairs, and a vintage couch vignette

Four bourbon barrels

Patio area in the front of the barn

A caterering prep room
Welcome to The Meadow! This is the area directly in front of The Barn. Perfect for a wedding ceremony up to 175 people. We also use this area for the reception.
Facts about the Meadow:
Can hold up to 250 people under a tent for a reception.

Maximum tent size is 30 feet x 90 feet.

There are multiple areas of the meadow that can serve as a ceremony spot depending on number of guests.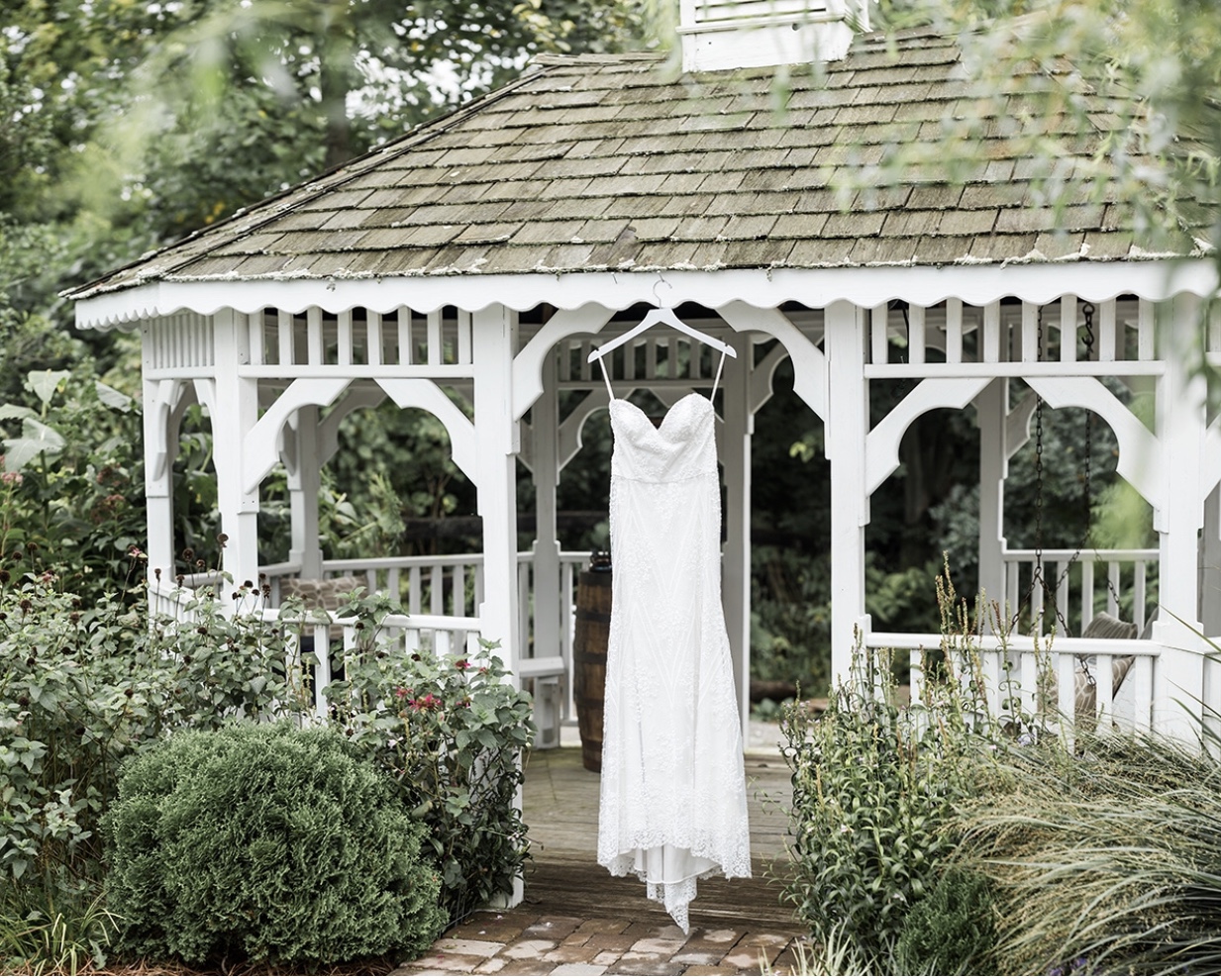 Welcome to The Gazebo! This area is part of The Meadow and the perfect area for a ceremony.
Quick Facts about The Gazebo:
Can fit 175 people in front of The Gazebo for a wedding ceremony

Can be used as an area for food for cocktail hour

Perfect for a photo-booth
Welcome to The Court! This is our favorite ceremony spot for weddings up to 250 people. With an upper area for the couple to stand, there isn't a bad seat in the house!
Quick Facts about The Court:
Right next to The Cottage

Seats up to 250 people for a ceremony

Plenty of room for large bridal parties

Shaded during late afternoon to evening

Beautiful gardens in bloom April-October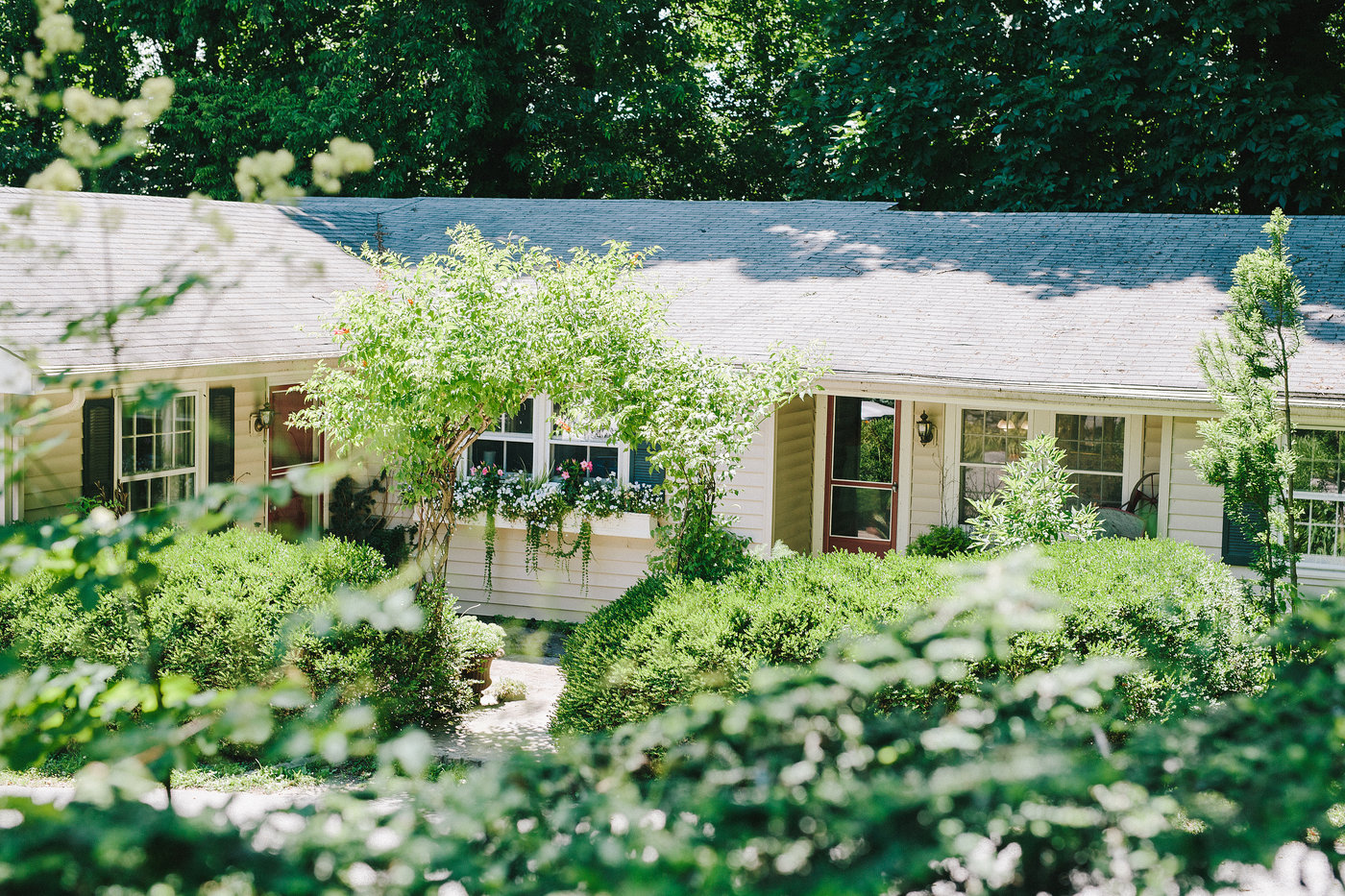 Welcome to The Cottage! This little house (which doubles as our operational office) is the perfect area to getting ready & relaxing in between events.
Quick facts about The Cottage:
Recently renovated

Two restrooms

Full kitchen & refrigerator

Two large lounge rooms with couch, chairs, table and television.

Temperature controlled with heating and air conditioning.

Built in a way that allows the building to be split in half and utilized by both parties if needed.
Welcome to The Farm! This is a three minute walk from The Barn and the perfect place to get beautiful golden hour sunset pictures.
Quick facts about The Farm:
Black barn located here which is a great backdrop for photos

Black horse fence throughout

There are several open fields of grass

Rock wall with rolling hills

The sun sets right over the hill!
Welcome to The Garden Center! This is a partially covered area with pavilions, plants, pavers and concrete-- perfect for a cocktail hour or ceremony.
Quick facts about The Garden Center:
Perfect area for cocktail hour or a ceremony

Paver and concrete throughout

Multiple covered areas

Plants available for staging

beautiful pond and displays
Welcome to The Spring! A shaded and wooded area, where Springhouse Gardens got it's namesake! This area is perfect for a first look, bride & groom photos, family photos, or bridal party photos.
Quick facts about The Spring:
Shaded all throughout the day

Perfect for photos

Stone steps, ivy, and moss

Close to The Cottage
Welcome to The Gardens at Springhouse! These professionally landscaped areas are the perfect backdrop for all of your photos. With multiple areas of carefully and meticulously laid out flowers, plants, and trees, there is a breathtaking view from every angle!
Quick facts about The Gardens:
Multiple varieties of plants that bloom April-October

Rocks, arches, and other interesting items placed throughout to create the most idyllic pictures

Carefully manicured and taken care of all year round
Welcome to The Wedding Garden! With pink and white hydrangeas, this area is the perfect picture spot for the happy couple!
Quick facts about The Wedding Garden:
Can be used as an area for a photobooth

Great for family pictures, bridal portraits, bride + groom portraits, etc.

Blooms April - October
Welcome to The Cocktail Garden! This area is the perfect place for your guests to go for Cocktail Hour, while you are taking pictures. Right next to the meadow, this area is secluded and shady for a lovely hour of mingling, enjoying hor d'oeuvres, and sipping on a signature drink.
Quick facts about The Cocktail Garden:
Shaded in the afternoon

Perfect area for guests to go right after the ceremony

Secluded and cozy

Arch with natural greens
Like what you see? Schedule a tour with us by clicking HERE!